ArcticStore Customer Reviews
We highly appreciate each and every testiomonial from our customers. The feedback we receive is one of our main drivers - We are very grateful and we strive to deliver only the best products and services.
ArcticStore Customer Stories
Explore a collection of captivating customer stories where ArcticStore has played a significant role. With more than 30+ locations worldwide, as well as nationwide availability throughout the United Kingdom, ArcticStore is the first choice refrigerated container for events, catering, cold chain logistics, fresh and frozen products, and much more.
ArcticStore Participating at the
Vienna Marathon
Providing cold storage for drinks and refreshments at the Vienna Marathon 2022. The drinks had been kept at a temperature of +4°C/+5°C, perfect for all the runners. The City of Vienna could count on our efficient refrigerated containers, we are happy to have played a role in the event.
ArcticStore in Athens - Safe and reliable cold storage
Athens Flea Market
Installation of 9 ArcticStores in the historic centre of Athens in order to ensure the safe storing of fruits and vegetables during the renovation of the Flea Market.
Verified Testimonials received directly from our customers
"
Moving from a backup provider in 2021 to the primary provider in 2022, in addition to me having a significant increase in other areas of the business meant a spread of work that left little room for proactivity this year. Having said that, I wanted you guys to know how much easier you all made my requirements. I can't understate the pressure you took off by covering everything I needed when I needed it and it's very much appreciated. I have some more perspective events clients looking at work in 2023 and definitely will be continuing to lean in on the TITAN brand...
"
Container Relocate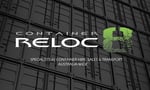 "
Since May 2021 we have successfully distributed more than 13,000,000 doses of the AstraZeneca vaccine to 21 different countries throughout south-east Asia and the Pacific, with such a high volume and turnover of such valuable and fragile commodity, the Artic Store units have served us incredibly well, being food and vaccine safe is the reason we have chosen to use and purchase 2 of these units. The Federal Department of Foreign Affairs and Trade (DFAT) have also spoke highly of these units as the remote monitoring feature helps put their minds at ease as they can log in and monitor the vaccines any time they desire.
"
Palladium Group International